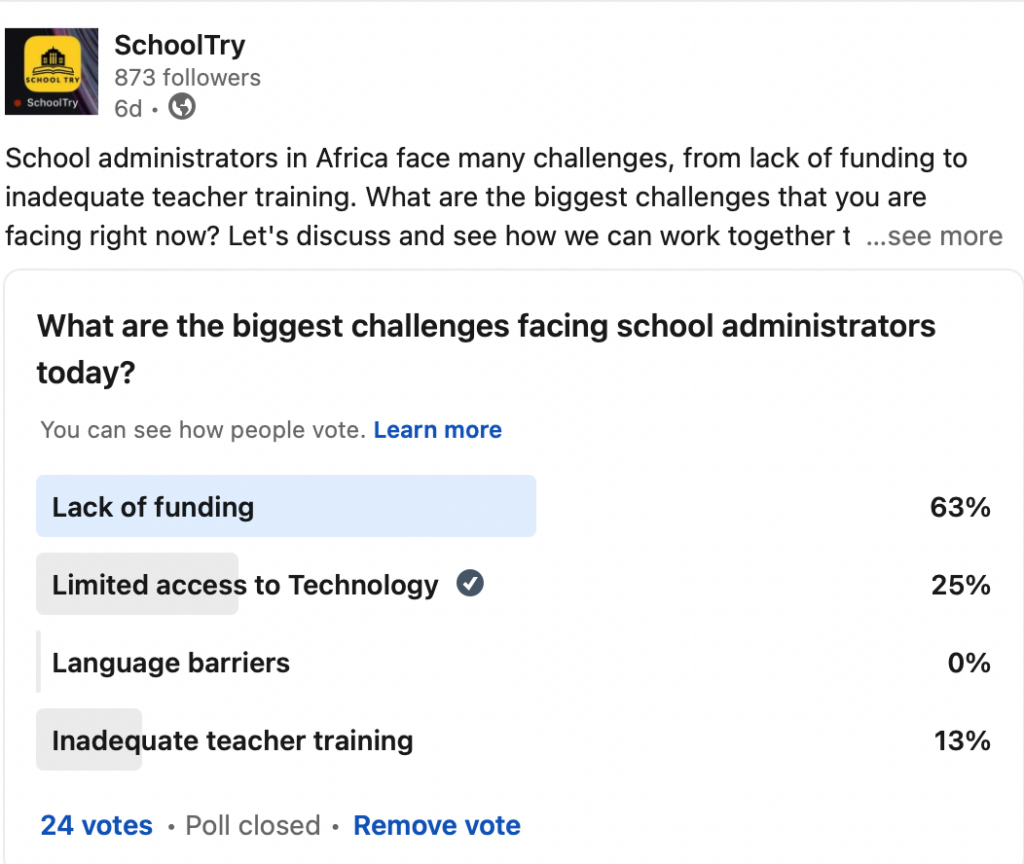 In the ever-evolving education landscape, school administrators face complex roles. They nurture conducive learning environments for students while tackling daunting challenges. Navigating the Challenges of School Administration: Lessons from a LinkedIn Poll
The question, "What challenges do school administrators face today?" exposed four primary issues: Lack of funding, Limited access to Technology, Language barriers, and Inadequate teacher training.
Navigating the Challenges of School Administration: Lessons from a LinkedIn Poll
1. Lack of Funding – 63%
A resounding "Lack of Funding" echoes in educational corridors. Administrators grapple with dwindling budgets impacting quality education provision. This affects outdated textbooks, underfunded extracurriculars, overburdened teachers, and overcrowded classrooms.
Solution: Addressing this, policymakers and leaders must advocate for increased school funding. Collaborative efforts between schools, communities, and governments secure resources. Fundraising, grants, and local business partnerships inject vital funds.
2. Limited Access to Technology – 25%
Amidst technological advances, limited tech access impedes schools. Many lack digital tools for effective learning, exacerbating educational inequalities and hindering digital literacy.
Solution: Prioritizing technology integration is key. Seeking grants, government support, and collaborations with tech companies bridge the gap. Training teachers in tech use enhances the learning experience.
3. Language Barriers – 0%
Though less prominent in the poll, language barriers remain relevant in diverse educational settings. Effective communication for varying language backgrounds fosters inclusivity.
Solution: While lower in the poll, administrators must proactively address linguistic challenges. Offering language support, bilingual resources, and fostering inclusivity accommodates diverse learners.
4. Inadequate Teacher Training – 13%
Quality education hinges on trained teachers. Inadequate training hampers adapting to evolving methods, meeting diverse needs, and managing administrative demands.
Solution: Prioritizing ongoing teacher development is crucial. Workshops, seminars, and collaboration with experts enhance skills and practices, elevating education quality.
In conclusion:
The LinkedIn poll unveiled pivotal insights into administrators' challenges. Lack of funding, limited tech access, language barriers, and inadequate teacher training warrant collective efforts from educators, policymakers, and communities.
Addressing these challenges head-on with innovative solutions cultivates equitable, thriving education for generations to come.
In a world where technology also helps to build our intelligence and understanding of life. You can consider signing up with SchoolTry, an EdTech platform that helps to automate, transform and digitise your school work. Click here to sign up for free.
Read our recent topic: The Role of Emotional Intelligence in Education